About Atami Castle
What's Atami Castle?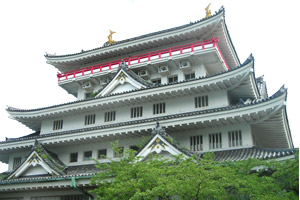 Atami Castle is 120 meters above sea level, and
Divine fortress are under the scenic spot Nishikigaura.
Fortification is the best place.
Once upon a time of the Sengoku period,
Even the strong coach of Kanto and Tokai district could not build the Naval castle.
Fortification architecture of the Momoyama period Japan has reached the apex of development, in accordance with the style of the early Keicho, construction of the castle tower was built in 1959 in the five-layer high-rise building exterior, inside the 9th floor.
Castle was rebuilt as the reconstruction and at the same time, Odawara Castle, Nagoya Castle, and Osaka Castle.
Location

Atami1993, Atami-shi, Shizuoka-ken 413-0033
TEL.0557-81-6206 FAX.0557-83-5535






Print is here >>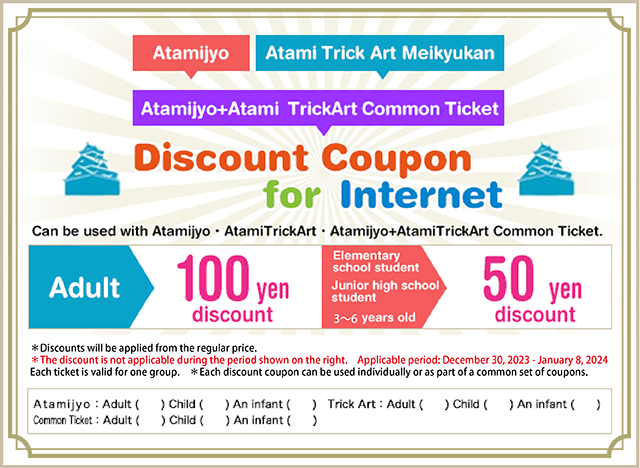 Admission will be discounted and if you take it in print tickets above.
※ You can used in black and white print.
※ You can use the entire group with one ticket.
※And can not be used with the service tickets and other.

| | |
| --- | --- |
| Tokyo-Atami Trick Art | Large vehicles and passenger cars.Turn left immediately out of the Nishikigaura tunnel. |
| Ito/Shimoda-Atami Trick Art | On the National Highway135, Turn right at the front Nishikigaura tunnel. |

Taxi from Atami Station(about 10min.)

| | |
| --- | --- |
| To Ito/Ajiro and Taga-Syako | Get off at Nishikigaura and Walk(about 10min.) |
| To Atami-kou and Kourakuen | Transfer to ropeway at Cyojyo Station and Walk(about 10min.) |

Yu-Yu-Bus from Atami Station(about 13min.) Get off at Atami-Jyomae(Ride free 700 yen a day)